brand new SERIOUS BUSINESS meme starring Catie Wayne (aka Boxxy)
Welcome back, true believers. Today's exciting article will be about Catherine Wayne, aka Catie Wayne, aka Boxxy, and the motion picture she is in...as well as her latest youtube video, on her youtube channel anewhopeee. Alright, I will stop chuntering for a bit, so you can watch the new video. So, here it is:
But this new vid isn't all Catherine Wayne has been up to lately. She also will be featured in the movie "The Chronicles of Rick Roll."
Oh well, and as long as I am posting vids...Oh what the heck.. Here is the epic trailer for "The Chronicles of Rick Roll"...
As one can plainly see, "The Chronicles of Rick Roll" is a cinematic journey through the vast tubes, and nether reaches of the internets...
INTERNET SERIOUS. F*CKING. BUSINESS. (created by an unknown genius)
Which is not a bad idea for a full length motion picture...
Ok, kids. Now, I am going to run through some of the members of the cast (but not all of them because that would be completely insane)...but some of them.
Antoine Dodson (then and now)
Antoine Dodson, who was the star of a the viral video of the internets called "Bed Intruder"...
the "Greatest Freakout" wafflepwn brother (then and now)


Stephen and Jack "wafflepwn brothers" Quire are also in it...
Brian "Boom Goes the Dynamite" Collins (then and now)
It especially touches my heart, to see this young man Brian "Boom Goes the Dynamite" Collins, make a comeback.
the "YOU'RE NOT AN IDIOT" bear (found on the internets)
At the time the "Boom Goes the Dynamite" video went viral, I felt really bad for Brian. After all, it wasn't his fault the teleprompter was malfunctioning. It seemed his dream of being a sportscaster was being crushed before our eyeballs. But it turns out, there is some justice in the universe...because now Brian is a movie star instead.
Anywho, some of the preliminary reviews are in, and since I am an objective journalist, I will share one positive, and one negative.
The bad news first...
Adam Crow and Galvatron
First, we have a review from Adam Crow's youtube channel AdamBlazer. Check it out below...
And now for a succinct, but positive review from Nathan Weaver on his youtube channel nathanweaverpersonal. (DISCLAIMER: I assume his name is Nathan Weaver, since his youtube channel is called "nathanweaverpersonal", but in this crazy, topsy, turvy world...WHO KNOWS.)
Nathan Weaver???




Well, these guys haven't even seen the movie...and I haven't seen it, because I have no way of seeing it (it says on the website that it's still in "development").
But here are a few things that I expect to see...
1. Humor, and lots of it...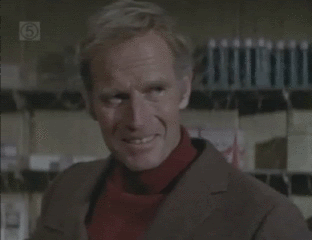 Charleton Heston laughing gif




2. Action, and excitement...
Randy Marsh of "South Park" fighting gif
3. An explosive and thrilling ending.
best movie death scene ever from the 1973 movie "Karate Girl"
Like the one in the vid below...
Now here are some things that will NOT be in the movie that I wish were...
1. Griorgio Tsoukalos and an alien
Giorgio Tsoukalos and an alien (via hellraised.tumblr)
2. Carl and Paul Llama
Carl and Paul the llamas (via Llamas With Hats)
3.Disco Kermit
Disco Kermit the Frog
Christian Bale/Kermit the Frog gif


O.k., o.k., ...I admit the reason I threw Kermit the Frog in there is because it's a super, great segue into my next, and final topic... which is my new video at youtube...
So, here it is...
Yes, and so that's it.
Once again, thank you, and please remember to support your local zoo.
Stay classy, Chicago!