newspaper cat gets a thumbs up from Godzilla gif
When I was reading the morning newspaper the other day, an unlikely headline grabbed my attention. A young comedian from the area had passed away.
(SEE: Dan Ronan, Chicago comedian, dies at 24
)
Sadly, I had not heard of Dan until his tragic passing. Being the investigative reporter I am, I wanted to know more about him, so I immediately started researching... and this guy was brillliant! WHY hadn't I heard of him??
"If you don't know who this is... And know who this is. Congratulations! You're what's wrong with the world." (new Doge version)
His comedic skills far surpassed those of many famous comedians. A young man loaded with talent, thankfully some of his performances are preserved on the vastness of the internets.
Here is a brief snippit just to give you an idea from a skit known as "You Can't Watch Wayne's World"...
brand new BERT IS IMPRESSED meme
We will get back to talking about Dan shortly, but first I want to back flop into discussing a new comic talent on the scene...
Philip Seymour Hoffman (also gone too soon) as "Mattress Man" gif
I discovered a funny guy named Ryan Willis thanks to @em1lysouthworth's twitter account. Anywho, without further ado let's get a taste of Ryan in action on Vine...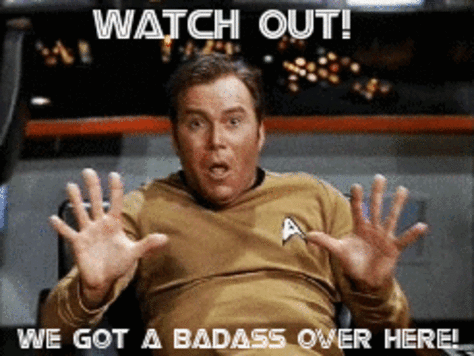 WE GOT A BADASS OVER HERE meme starring William Shatner/Captain Kirk
And now shall we close with a new segment called:
The Donald Trump Quote of the Week
Donald Trump Quote of the Week: "TOO MANY PEOPLE DON'T CARE ABOUT WINNING TODAY... I CALL THEM LOSERS."
Yeah. We won't be ending this post with the Donald Trump Quote of the Week. That would be stupid. Besides, I promised you more Dan Ronan.
So here ya go. Dan Ronan doing a character named "Tim Negoda" in a skit called "Skunky Funkybuns"...
R.I.P. Dan Ronan Goodnight, sweet prince
So that will end our journey today. Once again thank you, and please remember to support your local zoo.
Stay classy, Chicago!