Pirates of the Caribbean vs. Kim Jong Un (though the guy with the telescope isn't a pirate..but, whatever)
Well, gosh darn... it was another Christmas miracle, as no sooner did Wilford Fungus (in the recent video at
my very own youtube channel
) implore Sony Pictures to release "The Interview" to piss off the mighty Kim Jong Un, that the powers that be took his very good advice, and did so. Now thanks to American patriot Wilford Fungus, you can watch the James Franco and Seth Rogen film. Preliminary reviews have been trashing the film as a stinker, but as Lord Throckmorton Fungusleaves would say, "That is neither here nor there."
For now, Lord Throckmorton and Wilford Fungus face a new foe...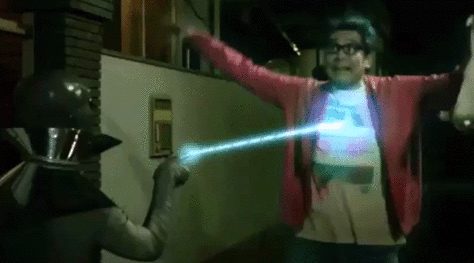 exciting new THE ROBOT UPRISING HAS BEGUN gif
No, not that one. I speak of the silent killer known as inflamed hemorrhoidal tissue. Welp, just watch the video below starring Lord Throckmorton Fungusleaves, Wilford Fungus, and Bryan Cranston of "Breaking Bad", and see what I am talking about.
Yeah, remember that time that youtube commenter asked Wilford Fungus if he was doing acid...?
"I was high on acid and started throwing my poo." (found on the internets)
It is good to know that Wilford Fungus and Lord Throckmorton Fungusleaves keep pressing forward with these videos despite the lack of positive feedback, not to mention the many slings and arrows, and poo flung at them from the peanut gallery out there.
this is a new meme... the I'VE JUST BEEN FRISBEED dog
And that will bring today's journey to a close.
Now, I must go... The Hole People need me.
Everyone into the hole! gif